3D Three-dimensional Precision Automatic Length Measuring Machine
Machine purpose: 3D three-dimensional precision automatic length measuring machine is used to measure the distance and depth within the range of 1000 (W) * 1250 (L) * 60 (H) mm, and automatically generate a table to store the measurement data in the equipment. The minimum reading is 0.1 um. It supports programming and automatic measurement, and the data measurement accuracy is high. It is mainly used for high-precision micro measurement and analysis of industrial products and precision devices. Machine characteristics: 3D measurement function is added to the three-dimensional precision automatic length measuring machine S0-9000. The company's original image processing technology is used to identify the edge part, so as to achieve high-precision measurement of the top and bottom. DRD determination
---
Message
The 3D three-dimensional precision automatic length measuring machine is used to measure the distance and depth within the range of 1000 (W) * 1250 (L) * 60 (H) mm, and automatically generate a table to store the measurement data in the device. The minimum reading is 0.1 um. It supports programming and automatic measurement, with high data measurement accuracy. It is mainly used for high-precision micro measurement and analysis of industrial products and precision devices.
Three dimensional precision automatic length measuring machine S0-9000 added 3D measurement function
The company's original image processing technology is used to identify the edge part to achieve high-precision measurement of the top and bottom.
DRD Determination
Just input the value to start the measurement procedure。
3D Measurement Function
The maximum effective range of measurement by focusing method is 1000 (X) × 1250( Y) × 60( Z )mm。
4-Stage Magnification microscope
The voice rate standard is in the form of (1X, 2X, 3X, 4X) and (2X, 4X, 6X, 8X).
CCD Lens
You can choose to use a 1/2CCD black and white camera or a 1/2CCD color camera.
Machine Specification: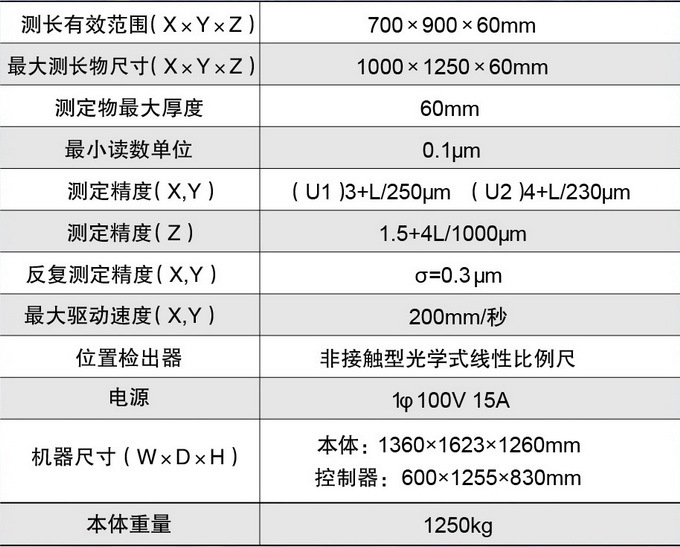 key word:
3D Three-dimensional Precision Automatic Length Measuring Machine